---
---
Creating a figure for publication
There are a number of options that you should set when you are making a figure using Mathematica. While the default plot options make very nice looking plots when viewed on a computer monitor, the labels and lines are not easily read when printed on paper. This can be fixed by setting plot options
rand:=RandomReal[NormalDistribution[0,0.05]];
testFunc:=Exp[-(x-m)^2/2s^2]/.{m->0,s->1};
sampleData=Table[{x,rand+testFunc},{x,-3,3,0.001}];

plt1=ListPlot[sampleData,
PlotStyle->RGBColor[235/256,174/256,27/256],
PlotRange->{{-3,3},{0,1.2}},
Frame->True,
Axes->False,
FrameStyle->Directive[Thickness[0.003],Black,16],
FrameTicksStyle->Directive[Thickness[0.004]],PlotLabel->Style["Plot Title \[Alpha]",24,Black,FontFamily->"Arial"],
FrameLabel->{
{Style["y axis \[Gamma]",16,FontFamily->"Arial"],
None},
{Style["x axis \[Beta]",16,FontFamily->"Arial"],
None}},
AspectRatio->.7,
ImageSize->600];

plt2=Plot[testFunc,{x,-3,3},
PlotStyle->{Blue,Thickness[0.005]}
];

text1=Graphics[Text[Style["param 1 = 0.5\[Mu]m\nparam 2 = 5.2 s",16],{-2,1}]];

Show[plt1,plt2,text1]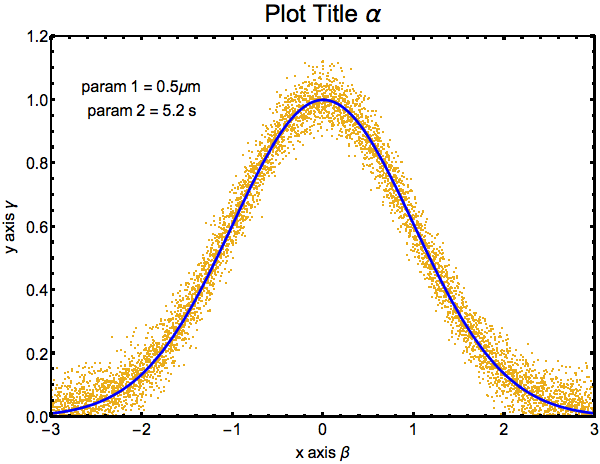 Now you should be able to see all of the lines and ticks clearly!
Saving the graphic
tldr: save as PDF!
After you have made a well labeled and easily read figure you will need to save it. This can be handled in two ways:
Right click on the figure and select "Save Graphic As…"
Use the Export function to save the plot to file.
When saving you should make sure you are saving the figure in a vectorized image format (EPS or PDF). Many journals only accept figures in a vectorized format and you cannot create a vector image from a JPEG, so be sure to do this! Many find saving figures in PDF format to be easier than EPS, as they have a PDF viewing program installed on their computer anyways (which you should).
Further Reading